What's New At Bear World?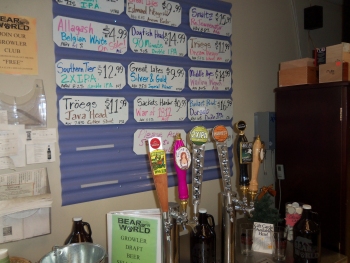 Draft Beer To Go/Growlers ... Stop in and check out our new draft beer bar. You can now have the finest American draft beer to take home. Choose from a selection of twelve (12) always changing beers, requests are welcome. Growlers allow you to enjoy draft beer at home. Growlers aren't new, just new to northern New York. A growler is a jug that you can fill with draft beer dispensed from our state of the art Nitrogen/Carbon Dioxide blending draft beer system. One of the only systems like it in northern New York, it is designed to reduce foaming. Our draft beer prices are based on a 64 ounce (one-half gallon) growler. You can purchase one of our Bear World growlers or bring your own.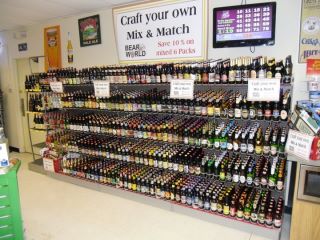 Craft Your Own ... Our single bottle sale section lets you try any of over 300 craft and import beers, or you can "craft" your own mix and match six pack at a 10% discount.
Mix and Match FABs ... Just like our Craft Your Own section, you can also mix and match flavored alcoholic beverages and ciders ... there are many to choose from.
Our four foot cider section ... We have a four foot wall with many ciders to choose from.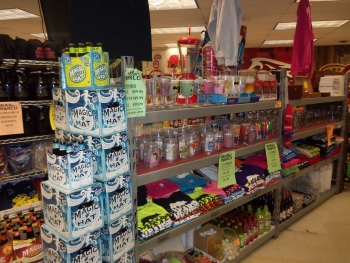 22 ounce craft/imports ... Choose from a vast selection of craft beer from across the country along with imports.
Seasonal Beer Section ... As the seasons change, we carry the largest variety of seasonal beers. These are displayed at the sales counter. Many of these beers will be rotated onto the Mix and Match section.
Party Accessories ... A variety of essentials for your party ... mixers, cups, koozies, glasses, pitchers, beer pong kits and much more.
Humidors ... We carry an extensive line of Premium Cigars that must be seen to be fully appreciated. Please check the drop down cigar menu above for a peek at our selection. Discount pricing offered on bundles and full boxes. Look for gift samplers during the holidays, and "It's a Boy/Girl" cigars for the special events. We gladly take cigar requests.