Hours of Operation

Monday - Thursday: 8 AM - 9 PM
Friday & Saturday: 8 AM - 10 PM
Sunday: 8 AM - 9 PM

Welcome to Bear World of Watertown NY. We are a discount beverage center and large convenience shop. Stop in and visit our 8000 square foot store where we carry the largest selection of beer in the north country. Our walk-in 1200 square foot cooler, maintained at a constant 35o, is the largest in the north country.

Our focus is on beverages. Bear World carries hundreds of brands and varieties of beer, domestics and imports, craft and micro-brewed specialty beers and flavored alcoholic beverages.

Text "bearworld" to 84483 to subscribe to our alerts

---
These are available in any packaging that is obtainable ... singles, quarts, 4 packs, 6 packs, 12 packs, 18 pack, 20 packs and 30 packs. In addition, we are the only retail facility in Jefferson County, outside of Fort Drum, where kegs are available. We do ask that you call us at least 24 hours in advance for keg availability.

To find out more about buying kegs, read our Keg Purchase Procedure. If you would like to download our Draft Keg Agreement so you can have your paperwork done before coming in,, click here.

Check out our reviews at beeradvocate.com.
What's Available At Bear World?

Draft Beer To Go/Growlers

... Stop in and check out our new draft beer bar. You can now have the finest American draft beer to take home. Choose from a selection of twelve (12) always changing beers, requests are welcome. Growlers allow you to enjoy draft beer at home. Growlers aren't new, just new to northern New York. A growler is a jug that you can fill with draft beer dispensed from our state of the art Nitrogen/Carbon Dioxide blending draft beer system. One of the only systems like it in northern New York, it is designed to reduce foaming. Our draft beer prices are based on a 64 ounce (one-half gallon) growler. You can purchase one of our Bear World growlers or bring your own.

Join the Bear World Growler Club, purchase 9 growlers and receive 1 free. Stop in on Wednesdays and get an extra growler stamp, Double Paw Wednesday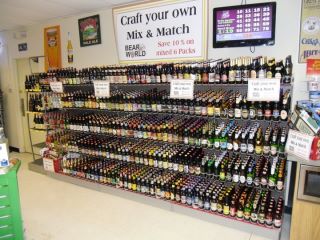 Craft Your Own ... Our single bottle sale section lets you try any of over 300 craft and import beers, or you can "craft" your own mix and match six pack at a 10% discount.
Mix and Match FABs ... Just like our Craft Your Own section, you can also mix and match flavored alcoholic beverages and ciders ... there are many to choose from.
Our four foot cider section ... We have a four foot wall with many ciders to choose from.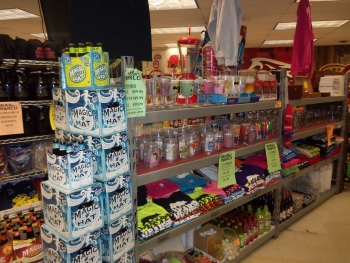 New Items ... Bear World has new craft beers and seasonals arriving at the store weekly. Don't forget to check out the New Items display
Daily Specials ... In addition to Everyday low pricing on select commercial brands, check out our "THIRTY-PACK" Thursday or "FRENZY" Friday for deep discounts on rotating beer specials. Text "bearworld" to "84483" to receive specials, and info on samplings and more.
Party Accessories ... A variety of essentials for your party ... mixers, cups, koozies, glasses, pitchers, beer pong kits and much more.
Bear World is an authorized Fireworks retailer
Humidors ... We carry an extensive line of Premium Cigars that must be seen to be fully appreciated. Please check the drop down cigar menu above for a peek at our selection. Discount pricing offered on bundles and full boxes. Look for gift samplers during the holidays, and "It's a Boy/Girl" cigars for the special events. We gladly take cigar requests..
BEAR WORLD Cooler

Tobacco Zone ... We are your tobacco products headquarters, carrying the main brands of cigarettes, smokeless tobacco, and especially "roll your own" supplies. We have bulk tobacco, cigarette tubes, and machines, everything you need to do it yourself and save. We carry soda, juice, water, energy drinks, (available in bulk). Bear World also has a basic line of grocery supplies, including milk, eggs, snacks, candy, and many other convenience items.

New York Lottery ... Stop in and try your luck at "Quick Draw" in a relaxed atmosphere. Stop on Saturdays and enjoy complimentary coffee or cappuccino while playing. There will be "second chance drawings and monthly store prizes giveaways. Enjoy the ample seating area and cable television while you play. All of New York Lottery games are available.